DVDSynth doesn't come with an installation program for now, so you'll have to do it by hand.
The first step is to make a program directory (for example, "C:\Program Files\DVDSynth") and extract the ZIP file into it. Then make a shortcut to either dvdsynth95.exe (for Windows 9x/ME systems) or dvdsynth2k.exe (for Windows 2000/XP systems), and put the shortcut somewhere (such as your Start menu or your desktop).
Now comes the trickier part, which is installing "DVDProxy", the DVDSynth device driver. If you've used Windows for any significant length of time you've probably installed a device driver by hand before. This is basically the same, except that there's no actual hardware.
First, go to the Control Panel and double-click on "Add New Hardware" (or "Add/Remove Hardware", depending on the version of Windows). You'll get the Add New Hardware Wizard.
On recent versions of Windows you will have to wait while Windows searches for new Plug-and-Play hardware. It won't find the SCSI adapter we're adding, because it doesn't really exist. It may find something else, though. Just do whatever it takes to let the system know that it's barking up the wrong tree.
When you're asked whether you want Windows to search for new hardware, choose "No" (or "No, I want to select the hardware from a list").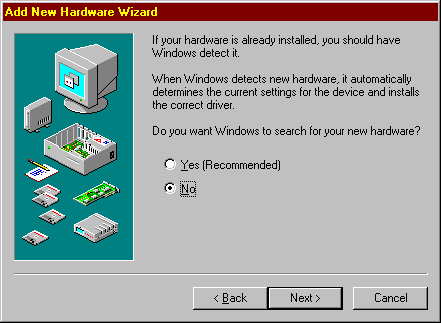 When asked to select the type of hardware to install, choose "SCSI controllers" (or something similar).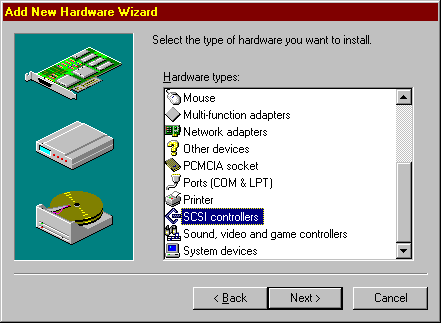 You will see a list of manufacturers and models. Click on the "Have Disk..." button, and enter the path to your DVDSynth directory. You should see the "DVDSynth virtual SCSI card" appear in the window.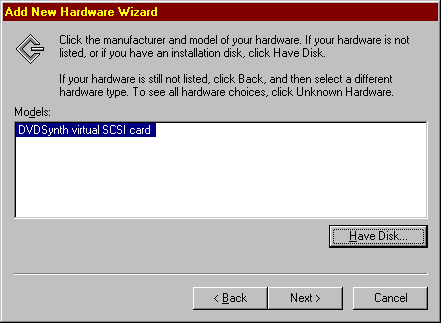 Click Next a couple of times until Windows starts installing the device.
If you get a warning saying that the SCSI card driver is not digitally signed, choose Yes to continue installing. "Not digitally signed" just means that my driver hasn't been blessed by Microsoft, which as far as I'm concerned is a good thing.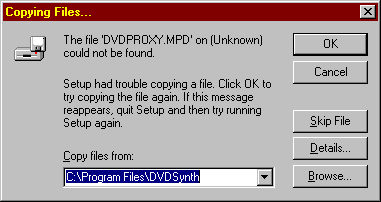 For some reason, Windows sometimes can't find the file to copy, even though it's looking in the right directory. Just click "OK" to search again and it will find it the second time.
At this point Windows will probably detect another device called "Unknown Device" or "DVDProxy dummy device", and bring up a new wizard. This is a virtual device which is attached to the virtual SCSI card. It has no real purpose; it's just there to get around some pointless Windows limitations. It doesn't really matter what you do with it, as long as you can get Windows to stop bothering you in the future. You can probably just cancel out of this new wizard.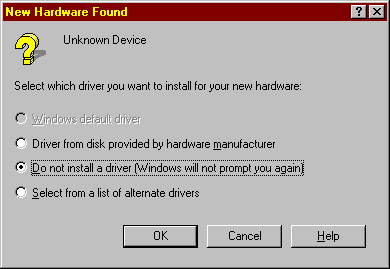 That's all. There should be no need to reboot; you can begin using DVDSynth immediately. However, programs which use ASPI (such as most DVD players) may not be able to see DVDSynth drives until after you reboot.
This release of DVDSynth can't do very much, so rather than give general instructions I'll lead you through adding subtitles to your Kiki or Gauche DVD.
Put the DVD in your DVD drive. (You should do this first, for reasons I'll explain later.) Now start up DVDSynth using the shortcut you created earlier (or any other method).
A little DVDSynth icon will appear in the "system tray" area of your taskbar. Click on it to bring up a menu. Choose "New...", and from the submenu choose "Mirror Drive".
You should get a dialog box listing the SCSI/ATAPI CD-ROM drive(s) on your system.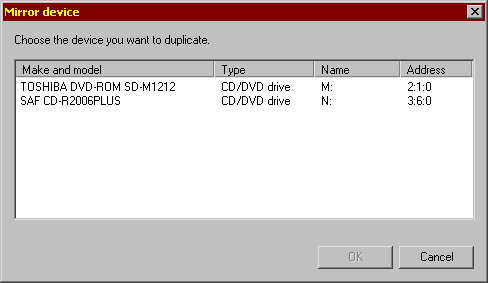 Double-click on the appropriate one. Now you should see a dialog box with available filters. Add the "DVD Subtitler" filter. You'll probably want to add "Unrestrict DVD" also, and maybe "SCSI protocol spy" as well. It doesn't matter what order you add the first two in, but in the case of the SCSI spy it does matter: if you put it at the bottom you'll see the commands from the DVD player to the filters, and if you put it at the top you'll see the commands from the filters to the real drive. You can even add several of them at different points in the chain.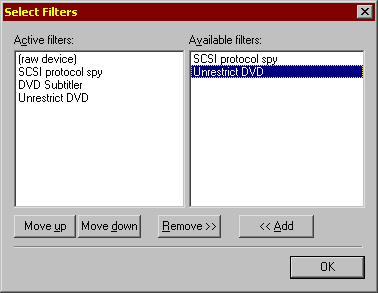 Now click OK. A new drive should appear on your system, seeming to contain the same DVD-Video disc as the real DVD drive.
Click on the DVDSynth tray icon again; there will be a new "Device #1" submenu. In that submenu, choose "DVD subber" and then "Open...". Select the file kiki-chihiro.dvdsub or gauche.dvdsub in the DVDSynth directory.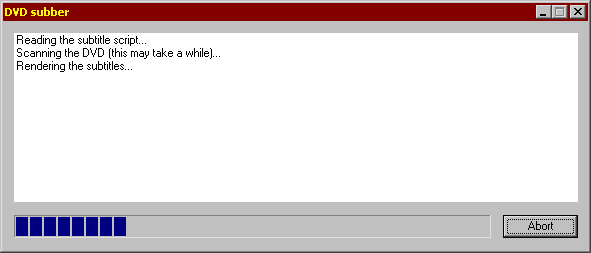 Once the rendering phase is done the subtitles are active. (The slow scanning phase happens only the first time.) Point your DVD player at the new drive letter (not the drive letter of your real drive), select the new subtitle track, and take a look.
The Windows 2000/XP version of DVDSynth is quite stable. The Windows 9x/ME version bluescreens one of my test machines (the Win95 one) on a regular basis, but has never crashed the other one (Win98SE). The bluescreening happens when unplugging a device, not when using it. This may be related to differences between Win95 and Win98, or it may be related to the fact that the Win95 test machine doesn't really exist: it's just an x86 emulator on my Win2000 box.
I think it's extremely unlikely that installing DVDSynth could render your machine unbootable, but if this happens you should be able to fix it by booting in safe mode and deleting the DVDSynth virtual SCSI card from the Device Manager. If that doesn't work, delete windows\system\iosubsys\dvdproxy.mpd (on Win9x/ME systems) or windows\system32\drivers\dvdproxy.sys (on Win2000/XP systems).
And please, if anything does go this badly wrong, report it as a bug.
General:
The Auto Insert Notification problem: This is an issue with the SCSI/ATAPI protocol which I won't elaborate on here. Basically there are two solutions: (1) leave auto insert notification on, or (2) turn it off, and never use your physical drive letter once you've created the mirror drive. I recommend (1).
Don't try to make a mirror of a virtual drive! It won't work, and may cause a crash.
In the Windows 2000/XP version, sometimes the device seems to freeze, and after a few seconds all devices spontaneously unplug (though they still appear in the DVDSynth menu). I think I have an idea of what is causing this, but please report it anyway if it happens to you.
As mentioned previously, I have been having sporadic bluescreening problems with the Windows 9x/ME version.
Settings are not saved when you exit the program.
In the DVD subtitler:
Only one subtitle file can be used at a time, and each subtitle file only applies to one title set (VTS) on the disc. This means that you can't, for example, subtitle all the parts of an episodic series at once if the episodes are stored in different title sets.
You have to load the subtitle files manually. The plugin should notice when a particular disc has been inserted and reload the subtitles you used last time.
The plugin doesn't even notice when a disc has been removed from the drive. If you put another disc in you have to choose "remove current subtitles" or the disc will malfunction.
PAL support is untested.
In the DVD restriction remover:
Currently this plugin makes a "best-effort" try at removing the restrictions. This has the advantage of being faster, but it might not work with players which read the disc in a way the plugin isn't expecting.
Even if the random-access restriction is removed, actual random access may still be impossible, because the appropriate data table wasn't placed on the DVD at authoring time. Solving this would be very difficult.
In the SCSI logger:
The logging buffer has a limited size (10,000 entries) and it will stop logging once that limit is reached, until you clear the buffer. I may never change this. If you need a bigger buffer, let me know.
On some systems, when you click on "Stop" it doesn't change to "Start." Let me know if this happens to you.